Welcome To The Power of Being You Podcast! How many times have you felt like YOU were the problem, that you were different, and things would be easier if you changed to "fit the mold"? Well, what if that wasn't true? What if you being you, exactly as you are, with all your uniqueness - is what the world requires right now. What if you are the change required to create a greater future? Hosted by Sarah Grandinetti and produced by the Being You Facilitators, this podcast invites you to meet a series of unique and brilliant guests as they share their stories, their difference, and their willingness to be themselves no matter what. Get some new perspectives and tools while being inspired by the change that one simple and yet transforming choice can create in our lives, society, and the world! More here: thepowerofbeingyoupodcast.com
Episodes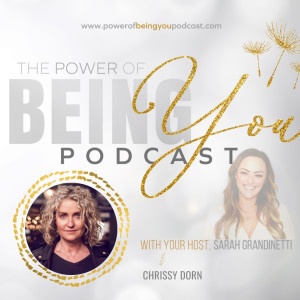 Tuesday Aug 24, 2021
Tuesday Aug 24, 2021
Are you a Futurist?
Huh!

In this episode of the Power of Being You podcast, Sarah Grandinetti and guest Chrissy Dorn, owner and creator of a sustainable business development consultancy, explore being a futurist. This conversation begins to open up a new and different perspective of living your life, creating your future!

What if you allowed yourself to always see the bigger picture by asking, "What would my life be like if I choose this?", instead of living by someone else's perspective of the future?

Take Away:
Questions to get out of fear.
A different view on judgement.
Facebook: chrissy.dorn
Instagram: chrissy_dorn
Website: www.chrissydorn.com